Your very own time machine! It comes with 36 pre-loaded games that are sure to trigger some retro-gaming nostalgia. Relive those childhood memories with the MaxFunDays retro phone case.

36 games included for full color display: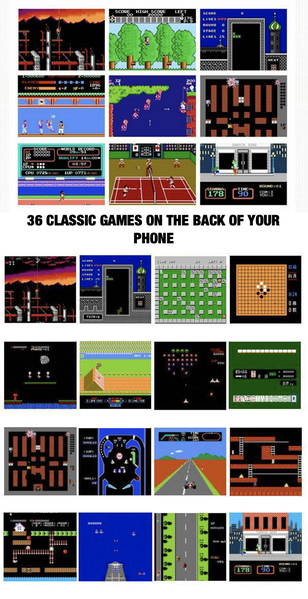 Return to the Fun of Childhood
Enjoy Games at Your Spare Time. Have Fun Just like a Child Whether in the Plane, Travelling, Waiting for a Taxi, Family Day or Friends Gathering, Very Relaxed, not Boring Anymore. Happy for All Day Trip.
High-quality colorful display for next-level gaming.

Tactile buttons for comfortable gaming sessions every single time.

Has its own battery which means it doesn't drain your phone's battery while you enjoy all those classic games.

Case protects iPhone from all corners including the display and rear camera module.

Made with high-quality TPU materials.

Total of 36 Game Boy classics for non-stop on the go entertainment.
How many games in this game case?
36 retro classic games in this game case.
Does this case comes with the battery?
No. It is charged with usb cable. The cable is included in the package.
What can I do if It does not work when I receive it ?
First, you need to press and hold the start button for about 5 seconds, the console will turn on. Or it may run out of battery, you just need to charge
it with the cable in the package. If you have any other doubt, please feel free to contact us. We are very glad to help you solve all problems.
Will it protect my phone?
Yes, our newly released retro gameboy cases provide full bumper protection. Ensures your phone is safe from any drop.
Wanna get one more!
Gameboy Case